Providing Durable Sun Screens for Your Home or Business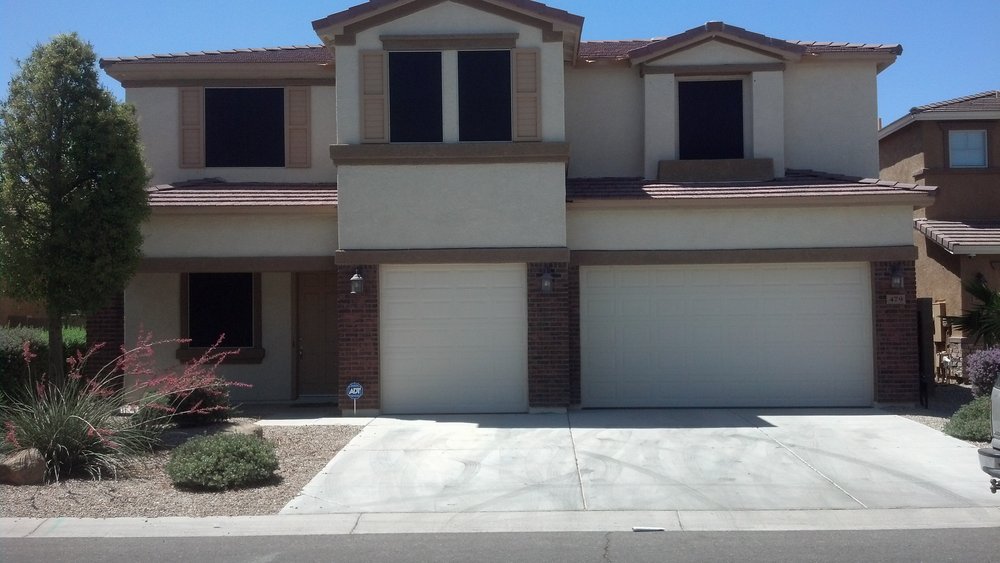 Armadillo SunScreens L.L.C. in Chandler, AZ offers the best screen, rollshades, awnings, and doors for your residential or commercial properties. You can be certain of the quality of our products, because we are authorized dealers of Titan Security Doors and Sunsetter Awning.
Other than screens for your door and gutters for your roof, we specialize in making rollshades for your windows. They are made with RollEase clutches your convenience and aluminum hem bars for durability. You can choose between white or bronze for the bar color. Our rollshades also include tie-downs for breezy days and a nylon bead chain for when you want to adjust the coverage area. Optional covers are available for that extra clean appearance.
You can have your shades mounted inside or outside of your home. We offer them in five different colors: black, brown, gray, tan (stucco), and beige. In order to lessen the heat inside your house, we use an 80% to 90% heat gain reduction material for our rollshades.
We provide a 10-year warranty period for our shades and lifetime warranty for the beaded chains in case you need a repair or replacement. Our rollshades are not only for houses, we also offer wholesale/retail and customization before installing them to fit any window or patio of your office or shop. Email us today to get a free quote.
Solar Heat Control Properties of SunTex 80, installed externally, 30 degree profile angle
Solar Optical Properties*
| Color | TS | RS | AS |
| --- | --- | --- | --- |
| Black | 24 | 4 | 72 |
| Grey | 26 | 24 | 50 |
| Stucco | 35 | 34 | 31 |
| 1/8CL | 1/4CL | 1/4HA |
| --- | --- | --- |
| 0.33 | 0.33 | 0.28 |
| 0.33 | 0.33 | 0.28 |
| 0.40 | 0.39 | 0.36 |
| 1/2CL | 1CL | 1HA |
| --- | --- | --- |
| 0.28 | 0.27 | 0.24 |
| 0.28 | 0.27 | 0.24 |
| 0.42 | 0.37 | 0.31 |
Solar Heat Control Properties of SunTex 80, installed externally, 75 degree profile angle
Solar Optical Properties*
| Color | TS | RS | AS |
| --- | --- | --- | --- |
| Black | 7 | 15 | 78 |
| Grey | 11 | 51 | 38 |
| Stucco | 21 | 43 | 36 |
| 1/8CL | 1/4CL | 1/4HA |
| --- | --- | --- |
| 0.14 | 0.14 | 0.14 |
| 0.12 | 0.12 | 0.12 |
| 0.18 | 0.18 | 0.19 |
| 1/2CL | 1CL | 1HA |
| --- | --- | --- |
| 0.09 | 0.09 | 0.09 |
| 0.07 | 0.07 | 0.07 |
| 0.15 | 0.13 | 0.14 |
Solar Heat Control Properties of SunTex 90, installed externally, 30 degree profile angle 
Solar Optical Properties*
| Color | TS | RS | AS |
| --- | --- | --- | --- |
| Black | 11 | 4 | 85 |
| Grey | 11 | 26 | 63 |
| Stucco | 17 | 46 | 37 |
| 1/8CL | 1/4CL | 1/4HA |
| --- | --- | --- |
| 0.21 | 0.21 | 0.20 |
| 0.19 | 0.18 | 0.15 |
| 0.22 | 0.22 | 0.20 |
| 1/2CL | 1CL | 1HA |
| --- | --- | --- |
| 0.17 | 0.17 | 0.15 |
| 0.15 | 0.15 | 0.13 |
| 0.19 | 0.18 | 0.16 |
Solar Heat Control Properties of SunTex 90, installed externally, 75 degree profile angle
Solar Optical Properties*
| Color | TS | RS | AS |
| --- | --- | --- | --- |
| Black | 2 | 13 | 85 |
| Grey | 4 | 34 | 62 |
| Stucco | 12 | 62 | 26 |
| 1/8CL | 1/4CL | 1/4HA |
| --- | --- | --- |
| 0.11 | 0.11 | 0.11 |
| 0.10 | 0.10 | 0.10 |
| 0.11 | 0.11 | 0.11 |
| 1/2CL | 1CL | 1HA |
| --- | --- | --- |
| 0.08 | 0.08 | 0.08 |
| 0.07 | 0.07 | 0.07 |
| 0.07 | 0.07 | 0.07 |